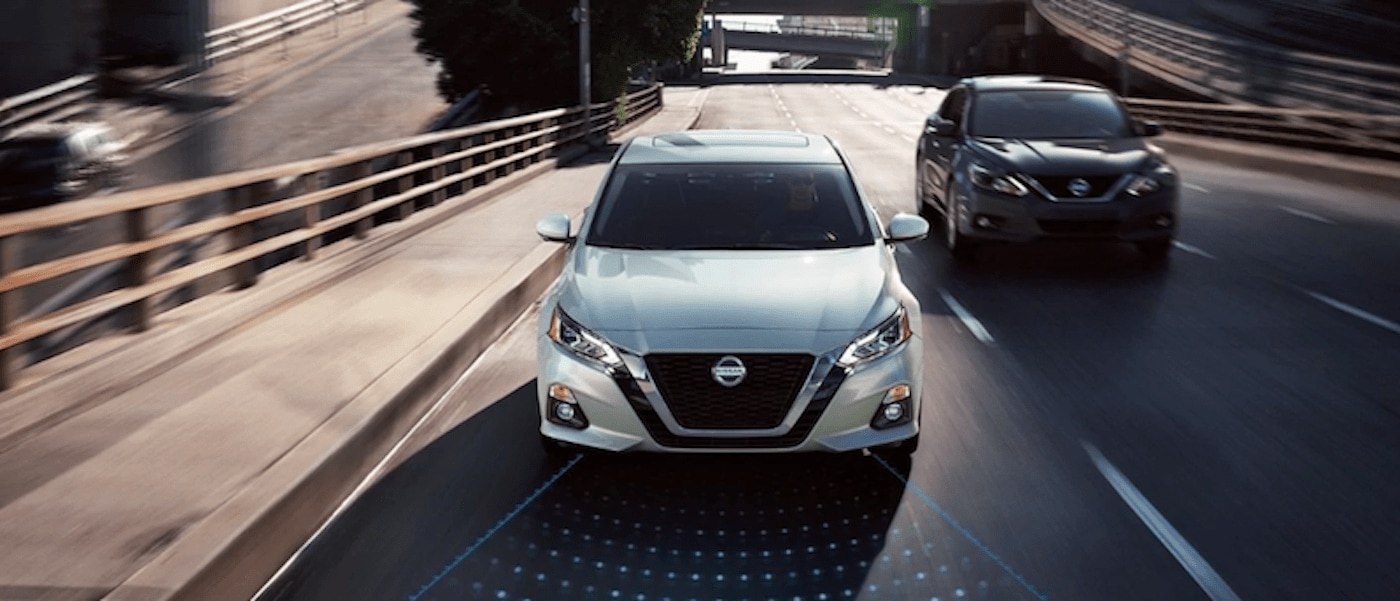 At Legacy Nissan, we know that safety is a top priority for London, KY drivers. That's why we offer a selection of reliable Nissan models that are backed by the latest safety technology. The suite of standard and available driver-assistive features sets the Nissan name apart from competitors, designed with you and your passengers in mind.
What Features Come Standard in Nissan Models?
Whether you are in the market for a Nissan Rogue or Maxima, you are guaranteed to be covered by six standard safety technologies that perform independent functions.
Vehicle Dynamic Control keeps you on your steered path
Traction Control reduces wheelspin when your Nissan loses traction
Anti-Lock Brakes aid in steering control around obstacles if you are braking heavily
Electronic Brake Force Distribution sends extra force to the rear brakes when weight distribution is uneven due to passengers or cargo.
Brake Assist will detect hard braking and apply maximum forces if it detects an emergency situation
Intelligent Auto Headlights adjust to the condition outside, turning on and off as needed. They also work with your windshield wipers, turning on after four swipes.
Are There Additional Nissan Safety Features I Can Add?
Features available through Nissan Intelligent Safety Shield are integrated throughout your Nissan, making sure you are covered in the event of an unexpected obstacle in front or behind you. Feature availability varies depending on the Nissan you select, so take a look at the available amenities and determine which top your list.
Intelligent Forward Collision Warning — This feature senses vehicles in front of you, detecting deceleration up to two vehicles ahead. You'll get audible and visual warnings on your instrument panel.
Automatic Emergency Braking and Automatic Emergency Braking with Pedestrian Detection — Radar technology to tracks your proximity to the vehicle ahead, giving audible and visual warnings to reduce your speed if a potential collision is detected. Your brakes will automatically engage if you fail to respond. When equipped with the Pedestrian Detection feature, your Nissan also has you covered if an unexpected pedestrian crosses in front.
Blind Spot Warning — An indicator illuminates on the driver or front passenger door pillar and the Advanced Drive-Assist® Display. If your blinker is on, the indicator flashes and makes an audible chime.
Rear Cross Traffic Alert — When backing up, this feature warns you of vehicles you may not see approaching from either side.
Intelligent Rear View Mirror – This feature turns your rearview mirror into a camera screen, giving you an uninterrupted view of what's behind your Nissan.
Intelligent Cruise Control — This feature adjusts your Crusie Control to maintain an adjustable set distance between you and the car in front.
Intelligent Around View® Monitor — Get a 360-degree view of your vehicle with this feature and receive alerts via the Moving Object Detection system if objects cross your path.
Tire Pressure Monitoring System — This system lets you know if your tire pressure is low via an icon on the task. When you fill them up, your Easy-Fill Tire Alert will flash your lights and beep from your horn to let them know they're at the right pressure.
Intelligent Back-Up Intervention — As you're backing up, this feature will make you aware of vehicles or large objects behind you. In the event of an emergency, the system can also automatically engage the brakes.
Learn More at Legacy Nissan in London, KY
These safety features are just a few of the reasons why buying a new Nissan is an ideal choice. You are also protected by advanced airbags and a LATCH system for car seats. For more information about all that the Nissan models have to offer, don't hesitate to contact Legacy Nissan in London, KY today.