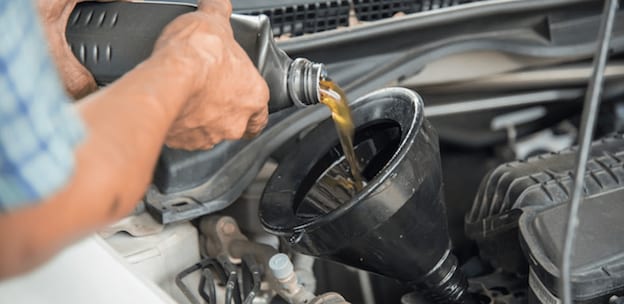 Warning Signs My Nissan Needs an Oil Change
Being aware of your Nissan's oil over time may be the difference between having your car for eight months or eight years. Here are some signs that will be helpful when figuring out when you require an oil change.
Dark or Dirty Oil 
Burnt Oil Smell
Engine Knocking Noise
Excessive Mileage
Exhaust Smoke
Check Engine Light
Low Oil Levels
How Often Does My Vehicle Need An Oil Change?
The professionals at the Legacy Nissan service center recommend an oil change every 3,000 miles or three months, whichever tends to come first, but newer vehicles usually only require an oil change every 6,000 miles or six months. 
The longevity of your engine oil depends on many different variables, including the vehicle you drive, the type of oil that you used in your previous oil change, your driving habits and many additional factors. Every model is unique and uses its motor oil in different ways so it's important to know when its time for a service. 
Oil changes are inexpensive, take no time at all, and are virtually the most important thing you can do to keep your vehicle running properly for years to come. 
Why Service With Legacy Nissan?
Trusting someone else with your vehicle isn't easy but here at Legacy Nissan near London, KY, we have a fully-trained team of professionals and a state-of-the-art facility to ensure we provide our customers and their vehicles with the best care possible. Vehicles are becoming more sophisticated as the years go by but luckily for you, so is our technology. 
While you may want to take your vehicle to a local body shop or service it yourself, more and more vehicles are beginning to require dealer-specific attention and care, making it that much more important to allow our dealer serving the London, KY area to service it for you. Requiring dealer-specific attention ensures that only the most qualified mechanics have the opportunity to work on your beloved Nissan vehicle, which for you, should be a blessing in disguise. 
Our team of trusted technicians will provide timely and efficient service and if your vehicle is ever in need of repair, Legacy Nissan will only use top-notch, genuine OEM parts on their vehicles. For oil change or part discounts, be sure to check out our Nissan service specials to help save you money on your vehicle's necessary maintenance! 
Satisfied Nissan Service Customer Review 
"The service department is excellent and the service manager is one of the best I've seen. I will always depend on this dealership. Friendly and trustworthy." - Robseky (DealerRater.com)
Schedule Your Oil Change in London, KY
Your car is what gets you from point A to point B and without the proper service, your vehicle could be in jeopardy of failing at any moment. Schedule a service appointment to allow our professionals to make sure everything is in line by taking a look under the hood or contact us with any further information regarding your vehicle's maintenance!
Our Nissan service center offers services to drivers surrounding the Corbin, Manchester, Williamsburg, and Somerset, KY areas.