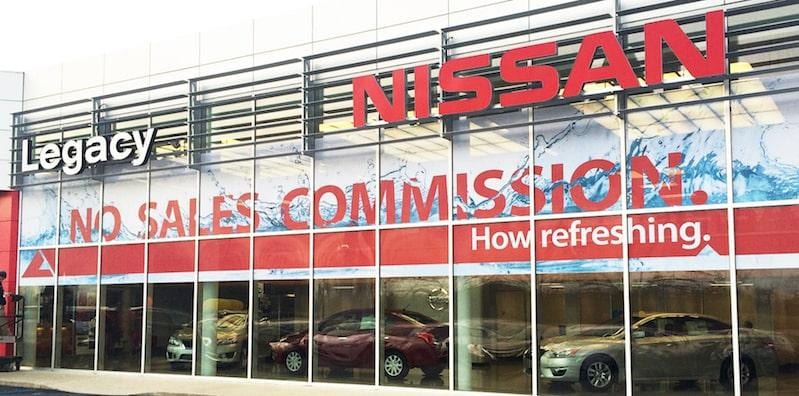 Robust Select of New and Used Nissan Vehicles for Sale
The team at Legacy Nissan in London, KY is here to help you through your car buying and owning experience. Whether you're buying a new or used vehicle, having your car serviced, buying a car online, or simply asking a question, the professionals here at our Nissan dealership will ensure you get the best treatment possible. Interested in hearing more? Read on to find out why you should be purchasing your next vehicle at Legacy Nissan.
No Profit-Based Sales Commission
Here at Legacy Nissan, you'll be happy to hear that we operate under a non-commission sales approach - meaning that our Product Specialists are paid a flat rate for each vehicle they sell to the customer. So, why is this important?
You'll find that other dealerships typically offer a commission-based salary to their salespeople, allowing them the opportunity to persuade you into purchasing a more expensive vehicle than what you had initially planned on.
Instead of spending their time calculating how much money they will earn on each sale, our Product Specialists focus on your vehicle needs, rather than themselves. Informing you of specific vehicle products and trim levels, we want you to find the Nissan just right for you.
Routine Maintenance Service for Nissan Drivers
When it comes to vehicle pricing, our service experts at our Nissan service center are always upfront and completely honest with our customers. Offering more competitive prices than our competition, we want everyone who chooses our dealer to walk out with the best price possible. In addition to our fair pricing, Legacy ensures that every pre-owned Nissan vehicle is "road ready" prior to it being offered for sale. So how do we prep a vehicle to be "road-ready"?
A thorough bumper-to-bumper inspection of each vehicle
Replacing tires or brakes if they are showing excess wear
Changing the oil and oil filter
Checking and topping off all fluids
Fully detailing each vehicle prior
Schedule an appointment online and keep your Nissan in premier form. 
Trade-in Process
Letting go of your beloved vehicle is difficult and with most dealerships offering insulting trade-in values, most customers are saddened to hear that the vehicle they've been driving around for the last few years is worth so little. It's really not though.

Legacy Nissan is different, however, and rather than considering how much we could profit off your trade-in vehicle, we let a sophisticated reporting system do our work for us. This technology, which integrates some of the most prominent retailers such as Autotrader and Edmunds, gives us an idea of the local market value for your vehicle and helps us come up with a fair and respectable price for your trade-in.
Visit Our Nissan Dealership Near Manchester, KY
As a premier Nissan dealer in London, KY, and serving the areas near Manchester, Corbin, Barbourville, and Somerset, we hope to see you soon. If you have any questions or would like more info, contact us today!
Hours
Monday

9:00AM-7:00PM

Tuesday

9:00AM-7:00PM

Wednesday

9:00AM-7:00PM

Thursday

9:00AM-7:00PM

Friday

9:00AM-7:00PM

Saturday

9:00AM-7:00PM

Sunday

Closed
Make an Inquiry
* Indicates a required field